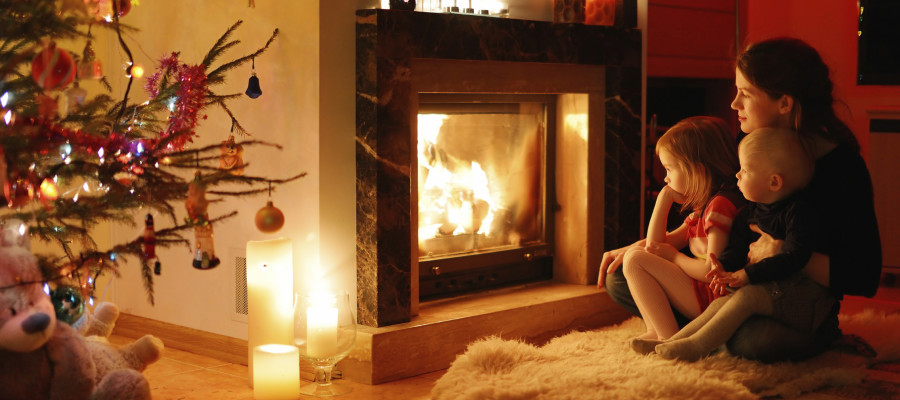 You know her. The woman with six children who glides effortlessly through the holidays turning out handmade gifts and edibles, entertaining family and friends, and all in perfectly polished outfits without being a complete wreck inside. Yeah, that's not me. And I bet it's not you either. Unfortunately, it seems that stress has become synonymous with the holiday season, but that doesn't have to be the case. Remember that the holidays are yours to own—you can and should make them just the way you want them to be. So, take a deep breath and remember the reason for the season. My favorite tips to keep the season special will help you slow down and actually enjoy this beautiful time of year.
---
1. Reassess
Make a list of everything you do surrounding the holiday season and take note which activities trigger stress. In each of these situations ask yourself, "Who am I doing this for?" Your children? Your mother-in-law? Your husband? Yourself? If you're going through the motions just to meet your own expectations and no one else, why not cross it off the list?
---
2. Bring the outdoors inside
Keep evergreens, holly berries, poinsettias and pinecones around the house. The delicious smell and bright colors are bound to make you happier.
---
3. Break out of the usual routine
Go ice-skating together as a family. Make a gingerbread house. Sing Christmas carols. It might sound hokey, but trust me you and the kids will have a blast doing it.
---
4. Do something for yourself
Get a manicure and pedicure or a massage (or both!). Whatever the indulgence, you deserve it and should take care of yourself.
---
5. Take some shortcuts
Don't feel bad about taking shortcuts in the kitchen, especially if you are hosting a get together. Use pre-made chicken stock, canned pumpkin or any other convenience food. Anything to ditch the stress so you can have more fun—that's what the season is all about!
---
6. Count your blessings
Gratitude always brings joy. Life is better when you see the glass half full instead of half empty.
7. Add some sparkle
Dressing up for a holiday party? Add something glittery—a hair accessory, nail polish or shoes. Glitter can be fun and festive around the holidays. Just remember a little goes a long way.
---
8. Exercise
It releases endorphins, which not only make you happy, but also make you want to eat healthier and stay on track this season.
---
9. Set the mood
Candles are a simple way to add a little glamour and ambiance. Create a candlescape on your dining table or mantel. Wrap the candles with garland and add a few ornaments. Voila! A beautiful centerpiece.
---
10. Check your perfectionism at the door
Are you a working mom who is comparing her baking and tree-trimming efforts to those of a stay-at-home mom with two full-time nannies? Are you visualizing a Christmas party right out of the movies? It's tough not to put pressure on yourself, but seriously—stop.
---
11. Start a new tradition
If a huge family get-together is too complicated or torturous for you, why not suggest seeing relatives separately. You could meet for several intimate dinners on different nights making everything much more manageable. Or better yet, dine out! If travel logistics are overwhelming, celebrate a month later when travel is much easier and fares are cheaper.
---
12. Slow down
The season seems to fly by faster and faster each year. Remember to stop once in awhile and take a deep breath of that beautiful pine tree smell, enjoy a one-on-one cocktail with your husband by the fire, and roast a marshmallow or two with the kids. When you stop to enjoy the little things, suddenly everything seems just right.
What do you do to keep your sanity during the holidays? Any special traditions you would like to share? We would love to hear. Happy holidays to you and yours!