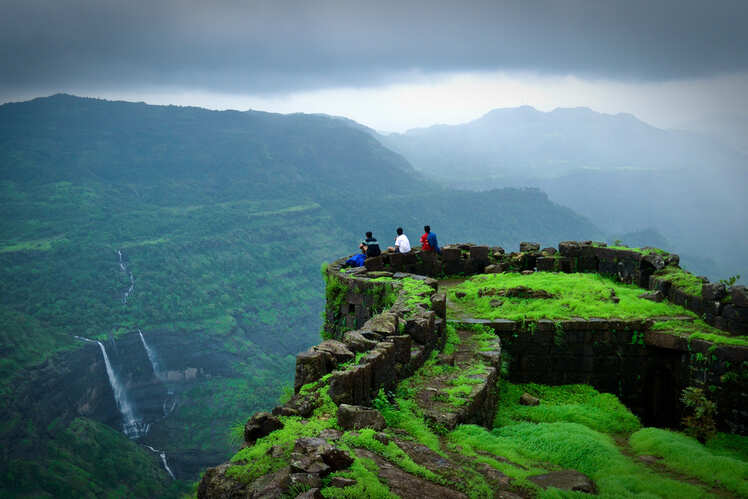 Photo by:  Kandoi.sid, Creative Commons Attribution LicenceMost of you must have tried your hands at trekking and must be aware of the reasons that make this activity so appealing. Did that make you wonder if there are places for night trekking in India? This country, with a wide variety of topographical places, has a lot to offer. You just need to look in the right places. This is where we step in, to guide you to places that will offer you an experience to treasure for a lifetime. 
Some might be thinking why to go trekking at night, when this activity can be done during the daytime. Well, curious minds know no bounds. However, if you live in cities, where you are surrounded by concrete buildings, you should go for one of these treks and feel the difference. You should see the canvas up there at night brightened up by glittering stars, and the mesmerising panorama that it creates with clouds lit up with stars and moonlight. Thinking of the way in which the ambience turns so vivacious during night time, you should definitely go for one of these treks.
So, if you are up and ready to discover the night secrets, here is our exclusive list. Check them out.
Anthargange
Credit: ThinkStock PhotosWhat makes this night trek worth every penny is the cave exploration aspect. It will be an epic adventure trek, which will let you enter a maze-like path created by volcanic rocks and boulders, plus, the cave-like formation that you pass through during the trek is so narrow that you might have to crawl in some places. Wondering what awaits you after passing the cave-like formation? After hours of crawling, walking, and climbing, you are greeted by an open sky filled with millions of glittering stars in front of you. However, the main part of the trek to Anthargange temple is via steps, which will lead you to a beautiful landscape to surprise you. 
Dhotrey Tonglu Top
Credit: ThinkStock PhotosSituated just a few miles away from the gorgeous Darjeeling town, Tonglu is a thrilling trek that can be taken during the during the daytime. But, if you have a thing for sun rises, you should take this trek at night. And mind it, when you fix your eyes up in the horizon and watch the sun rising from the Tonglu Top, the vision will remain with you for a long long time. When in Darjeeling, most people prefer going to the Tiger Till for a night trek, but for a change, opt for this off-beat trek and you will not be disappointed for sure. If you reach the sight on time, you will be the lucky one to witness the most mesmerising sight of sunrise. 
Ranganathaswamy Betta Trek
Photo by:  Shoorveer5893, Creative Commons Attribution LicenceLocated at a distance of around 80 km away from Bengaluru, Ranganathaswamy Betta is also known as the BR Hills. It is, in fact, one of the most preferred trekking locations in South India and is one of the best for night trek. You start this trek though Bannerghatta National Park, and the stunning views that await you once you reach the top are just out of the world. In fact, the beautiful ambience that is created by the views of the Cauvery river and Savandurga range will leave an indelible mark in your memory. 

Rajmachi Trek
Credit: Public Domain Mark 1.0This trek is of around 18 km and is a bit long that starts from Lonavala. To experience that adrenaline rush, you must try going to this night trek. All along your gripping trek, you will be accompanied with buzzing yet beautiful insects, flickering fireflies and the lush green forest. To complete this trek, one normally takes around 10 to 12 hours. Many prefer to halt at a tiny village that lies on the way, where you can opt for either a camp or a homestay. A tip, wake up on time and start your trek to reach Rajmachi Fort during the wee hours of the morning. The views up there will surely make up to your tiring soul.
Harishchandragad Trek
One of the most popular and difficult treks in Maharashtra, which trekkers prefer to experience to test their agility and patience. This thrilling night trek will let you experience camping in the Harishchandragad temples and caves, and the trek being late in the evening. Just like the difficulty level of the trek will test your endurance, the alluring vista up there will soothe your soul by its charm and ambience. While part of this trek, you get the kick while passing through vast plains, water patches and the dense undergrowth. These are the essential components that make this trek difficult, but trust us it is definitely one of the treks that you should try definitely at once.