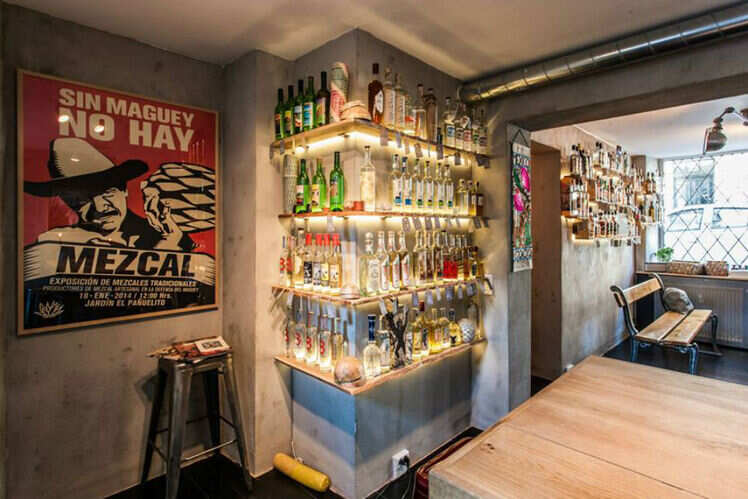 Photo courtesy: Barking Dog
We – Sonia and me – watch the couple intently. The woman in late 30s or early 40s in a knee length scarlet dress and the man, shaven headed, solidly built, in jeans and shirt, looking hard as a rock. The skinhead talks intensely, as if trying to convince or explain something, looking straight at her eyes; the woman, an eager listener. Between conversation, they pick up their glasses from the table and sip. One peg down.
"I think they are on a first date," I tell Sonia, taking a cue from their body language. They are little apart, they don't touch each other and there is a degree of formality between them. "Let's see what happens after their second drink," Sonia winks, as we continue staring at them from the stools by the bar counter, certain in the knowledge that lost in each other, they wouldn't catch us looking.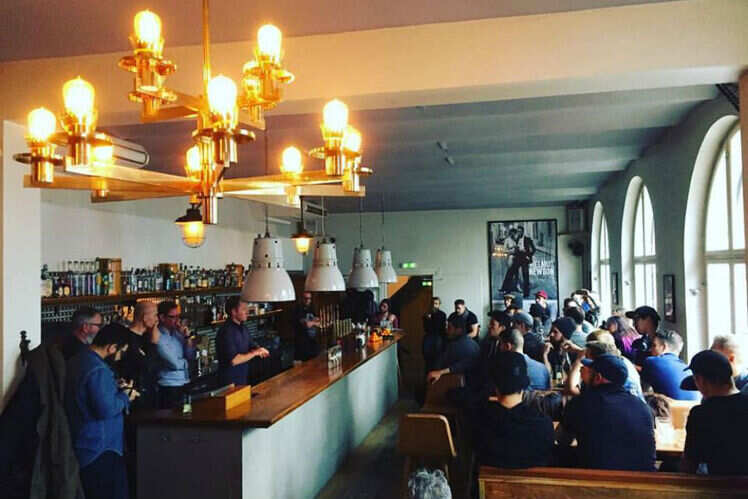 Photo courtesy: Barking Dog
It's 2 am on a Friday night and we're at a Copenhagen bar called the Barking Dog in Nørrebro district, a fierce choice if you are thirsty for beer or cocktails and need a good night out. Barking Dog looks like a London pub with a nice and relaxing atmosphere. The music is low on decibels providing room for conversations. But our entry to the pub hasn't been smooth. The bouncer, a lanky fellow with a hat, stops us at the entrance. "Bar closed. Last orders have been placed. No more entries," he says. At this, our escort from Wonderful Copenhagen, Mr G (with a tongue twister of an Italian name, we call him by his initial) takes the bouncer aside, whispers something in Danish, and lo, the gate opens instantly!
So there we are by the bar counter now with three handsome dudes juggling and dancing their way to mixing some fabulous cocktails. With dim lights, candles all around, and a woody decor, it is a cozy place for sure.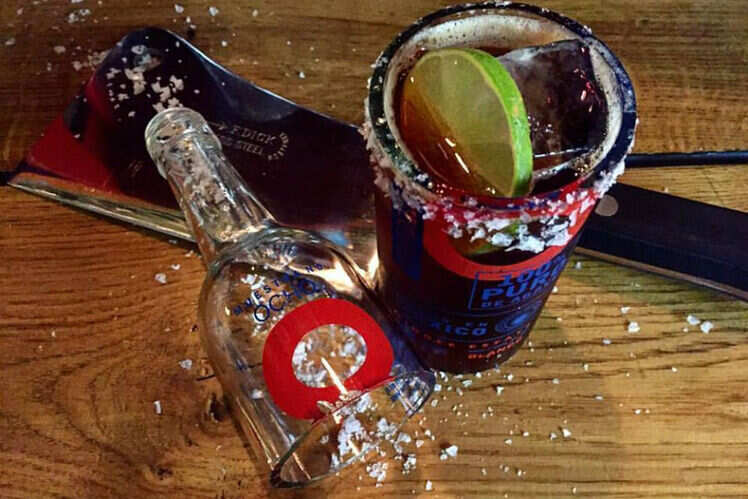 Photo courtesy: Barking Dog
We continue our watch. The couple now orders a second round of drink. A few sips down, the skinhead now holds her hand. She pulls it away. But this time around, instead of just being a listener, she starts talking too. Round three brings the woman move a little closer to him. He slips his hand around her neck. The woman doesn't object. She crosses her legs, the hemline of her dress going few notches up, revealing fair amount of skin. Encouraged, the man moves forward, pull her towards him by the neck and attempt to plant a mouth-to-mouth. However, she just lets him touch the lips and pulls away.
Meanwhile, Sonia and me order another tequila shot. And continue observing. The couple also orders yet another drink – their fourth. Yes, we have been counting. By the end of it, the man's palm crawls its way under her dress. She doesn't object this time. It's around 4 am by now, and we are still looking at them between our chats with the bartenders. Now the couple is really close. Conversation continues. They look at each other more intensely, sometimes wordlessely.
It's becoming an exciting watch, privacy be damned. He is feeling her up all over. The woman loosens up. And soon there is no stopping them – to hell with the world, as they lock their lips, her scarlet dress moving further up her legs. The woman arches her back and the skinhead lays her down gently on the sofa. What follows is censored. "Yes!" I clink my shot glass with Sonia's, and down the tequila in a gulp. Date successful. Mission accomplished. Happy ending.
Time now to turn our attention to the bartenders. At one point I move behind the counter to get a few pictures taken with them, but end up mixing an 'Indian' cocktail for them with a sliced green chilly. They are supremely pleased.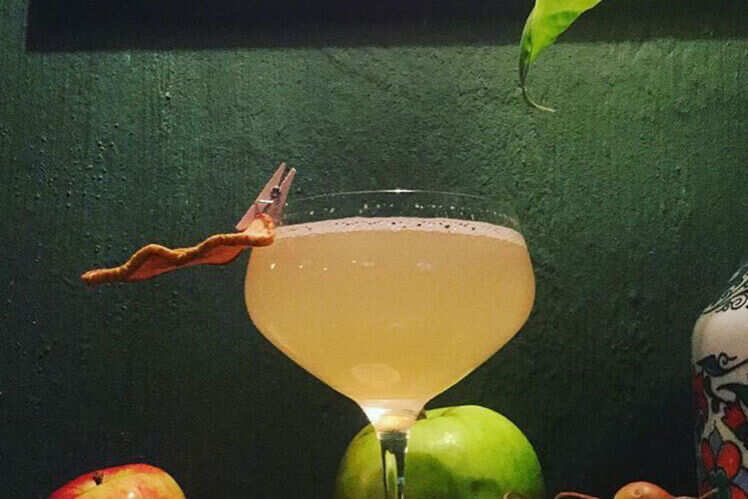 Photo courtesy: Barking Dog
If there is one place where night and life come together at its best in a Copenhagen weekend, it has to be Nørrebro district. After all everyone intends to make the best use of the off days by drinking themselves through the nights. With inhibitions down, the Barking Dog event is just one of the several PDAs we witness all throughout the night.
Prior to the Barking Dog, we have been out exploring other clubs in Nørrebro . Here, you don't really need an escort or a guide book to clubs to party the night away. These are everywhere. Whenever, wherever we see a bunch of hipsters smoking and chatting, we stop. Sure there must be a pub here. And there is. And this one is called Rust. That it's rocking is obvious. Electro beats escape the entrance door everytime someone opens or shuts it. With several floors, each one offers a different experience: DJs and concerts on the main floor, a cocktail lounge in the middle, hip hop, dubstep, reggae, soul, and funk music in the basement, and a laid-back atmosphere in the Upstairs bar.
Right opposite there is a multi-storey residential complex. We see two pair of naked legs dangling from the window of a first floor apartment. It is a couple out there sitting on the window sill, smoking, drinking and enjoying the buzz right in front of their house. Cute.
The atmosphere out on the street is electric. Spilling out of the clubs, we spot several groups along the way. In fact, the streets have by themselves become party zones – no need to go inside. Music played inside the clubs are also relayed out, which means there are enough sounds to keep you on a groove right on the street.
Our Friday night, of course, begins by 9 am when we step into the first bar of the evening, Oak Room Cocktail Bar. Multicoloured spotlights illuminate the long counter. This is a great place to mingle! Half hour there and we move on to Dupong, a very popular place thanks to its cheap beers and drinks. Created by four young students, here you can break the ice with strangers and Copenhageners through various fun activities and social games.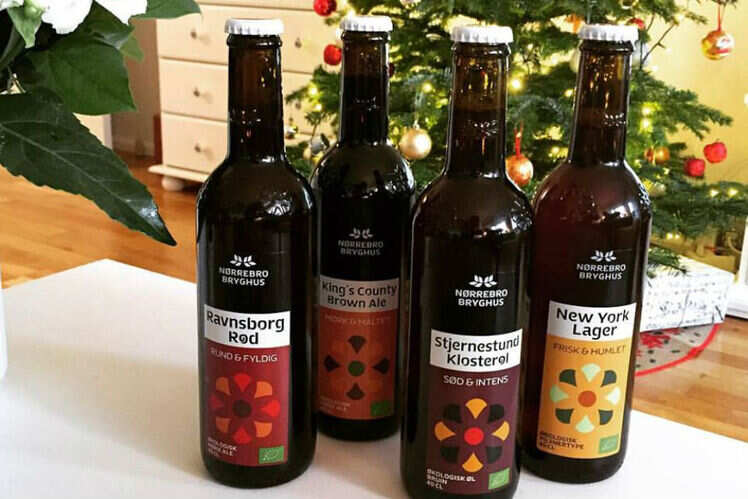 Photo courtesy: Nørrebro Brewhouse
Kassen is another place known for cheep beer and other drinks. Squeezed in between an Italian pizzeria and a kebab restaurant, it is packed to capacity. Speaking of beer, a must-visit place is Nørrebro Brewhouse, Denmark's first CO2-neutral brewery. This is where we enjoy Global Ale, the country's first CO2-neutral beer. Housed in a classic brick building from 1857, the bar is in the basement and the restaurant is located on the first floor.
The next club in our itinerary is a place called Sigurdsgade in outer Nørrebro. The dance floor here is full of movers and shakers , a sparkly disco ball hanging from the ceiling illuminating their faces in psychedelic colours. The ceiling is black with glittery lights and you get the feeling of dancing under a clear night sky.
With all the action inside and outside, we are in no mood to go back to the hotel, never mind it's 5 am now. Most pubs stay open till 10 am the next day – when party animals have their breakfast before they go home to sleep away their night's excess.
Sandy, another journo in our group, now plays 'spot the drunk'. Not a difficult game to play. There are plenty of wobbly beings around: Barefoot women with stilettos on their hands; men peeing right on the street without a worry about anyone watching; a man trying to lift his girlfriend only to crash land on terra firma; others seated on the sidewalks, half asleep, or moving in circles like zombies, stoned. With enough alcohol in our system to hit our minds, we ourselves are no better. I want to go back to the hotel. But we have lost track of where we are. We have been blindly following one party to another and worse.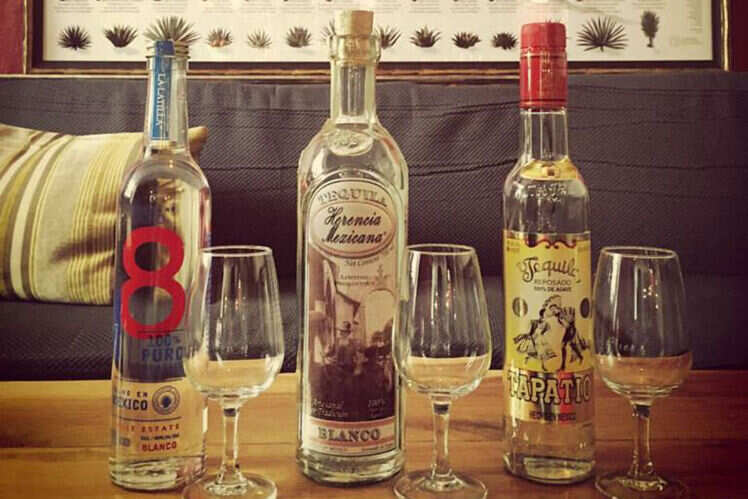 Photo courtesy: Barking Dog
But who wants to go back to the hotel really! Only me, it seems. "Guys, we would hardly get any sleep; we have an early morning activity, remember?" I tell our five-member group. But no, they simply don't want to think about it. Frustrated, I blurt, "Ok guys, you go on. I will find my way back to the hotel!"
"No Nishiraj, please. One more pub and we are done!" Sonia tells me; and so it is.
Till we wobble our way back to our hotel at the first light of dawn.