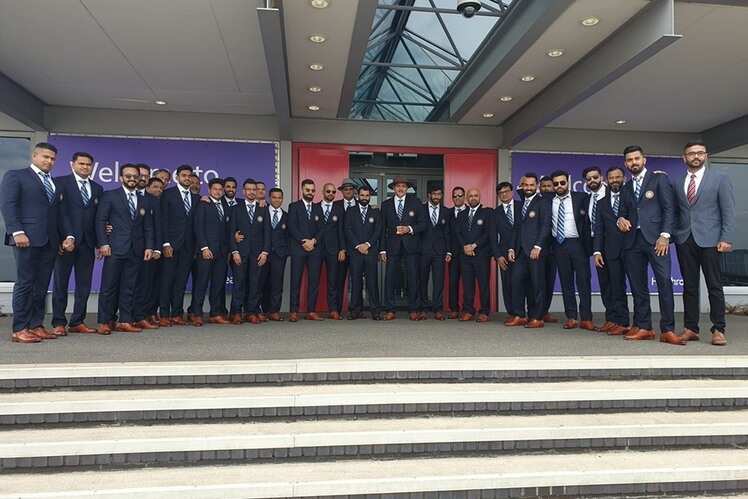 Photo courtesy: Indian Cricket Team – official facebook page
01
All the best to Team India!
The ICC Cricket World Cup 2019 is all set to begin from May 30, 2019, and of course, we cannot keep calm! The cricket world cup is going to be hosted by England and Wales, and fans are already on their way to the host country. While we get ready to watch team India do its magic in the ICC Cricket World Cup, we will also ensure that you have a great time there; here is a little guide to what all you can do in between watching the matches.
02
Southampton
A port city of great significance, Southampton is a delightful experience that is known as one of the most important cruise capitals of Europe. The city has the longest stretch of medieval walls and boasts great museums that are unique and educating. Here, the matches are being held at the Rose Bowl and Hampshire County Cricket Club.
India plays South Africa at the Rose Bowl Cricket Ground on June 5.
India plays against Afghanistan at the Rose Bowl Cricket Ground on June 22.
What to see? – Sea City Museum, Solent Sky, Tudor House and Garden, Southampton City Art Gallery, Port of Southampton.
What to eat? – Sunday roast
03
Manchester
Home to two of the biggest rivals in English football, Manchester United and Manchester City, it is going to be all about cricket this time. The venues, where the games would be played here are Old Trafford and Lancashire.
India plays against Pakistan at Old Trafford on June 16.
India plays against West Indies at Old Trafford on June 27.
What to see? – Tour of Manchester United/Manchester City clubs, Manchester Art Gallery, People's History Museum, Science and Industry Museum.
What to eat? – Lancashire hotpot
04
London
One of the venues in the world cup, London's charm is unparalleled to none. The city has all the makings of a world-class destination, and you will find the old world colliding with the new. The matches in London are being held at Oval, Lord's, Middlesex, and Surrey.
India plays against Australia at the Oval on June 9.
What to see? – Natural History Museum, National Gallery, Shakespeare's Globe, Westminster Abbey, St. Paul's Cathedral, London Bridge
What to eat? – A full English breakfast!
05
Cardiff
The largest city, and the capital of Wales, Cardiff has old forts and wonderful waterfront to charm guests. You can experience some amazing day trips from Cardiff, and venture into the coasts and areas surrounding the city. There are many castles, beaches, and more to be discovered in the city. Catch the games at Sophia Gardens and Glamorgan.
What to see? – Cardiff Castle, Bute Park, Castell Coch, National Museum of Cardiff
What to eat? – Cawl, Welsh rarebit, Welsh cake
06
Birmingham
The second largest city in Britain, Birmingham is full of surprises. It is an important social, cultural, and financial centre, and you will find yourself stumbling upon numerous things to do here. Watch the cricket matches at Edgbaston Cricket Ground and Warwickshire.
India plays against England at Edgbaston Cricket Ground on June 30.
India plays against Bangladesh at Edgbaston Cricket Ground on July 2.
What to see? – National Sea Life Centre, Soho House, Custard Factory, Cadbury World.
What to eat? – Brummie bacon cakes
07
Chester-le-street
A town in Durham county, Chester-le-street is an old town that goes back to the Roman times. The town has little quirky attractions that would be a step away from popular destinations in Britain. You can visit the local markets that are held every Tuesday, Friday, and Saturday. The matches are being played here at the Riverside Ground and Durham.
What to see? – Church of St Mary and St Cuthbert, Riverside Park, Tanfield Railway
What to eat ?– Toad in the hole
08
Taunton
A beautiful town in Somerset, England, Taunton is all about languid English holiday. Dating back to many years back, Taunton has some old-world relics that are a must-visit for tourists. It finds its origins back to the Anglo Saxon era, and it has been the site for many historical events. Catch the games at the County Ground and Somerset County Cricket Club.
What to see? – The Taunton Castle, Museum of Somerset, Vivor Park.
What to eat? – Shepherd's pie
09
Leeds
A wonderful city that brings is a mix of urban chic and English heritage, Leeds can charm you with its shopping, nightlife, and food scene. There is always something to do here, especially in terms of culture and lifestyle. You can watch the matches at Headingley and Yorkshire.
India plays against Sri Lanka at Headingley on July 6.
What to see? – Leeds Industrial Museum, Leeds Art Gallery, Royal Armouries
What to eat? – Pork pie, jerk chicken
10
Bristol
Experience a leisure holiday at Bristol, as the city offers some unique pleasures to its visitors. Bristol was interestingly awarded the designation, City of Film, in 2017 by UNESCO, and it continues to inspire creative work. It is a heady mix of traditions and modernity that visitors enjoy the most. The world cup games are being played at the Bristol County Ground and Gloucestershire.
What to see? – Street art, Bristol Museum and Art Gallery, Clifton Suspension Bridge, Brunel's SS Great Britain
What to eat? – Indian burritos at Thali Cafe