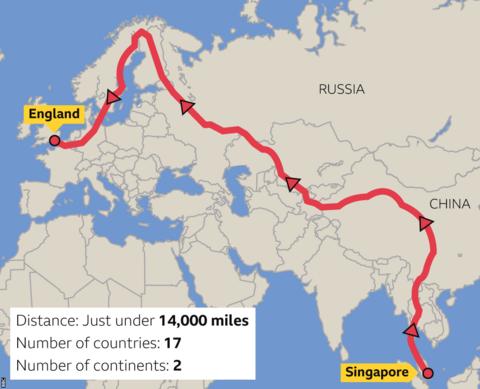 At 46 days, the Cricket World Cup is among the longest of sports tournaments, occasionally conjuring up thoughts of what else you could complete in that time.
For three generations of one cricket-mad family, almost the same number of day have been used to complete the road trip of a lifetime.
Totalling just under 14,000 miles, visiting 17 different countries and crossing two continents from Singapore to England via the equator and Arctic Circle, these India fans hope the journey ends with their country lifting the World Cup at Lord's on 14 July.
The Mathur family – from three-year-old daughter Avya to 67-year-old grandfather Akhilesh – left Singapore in their seven-seater people carrier on 20 May and, 48 days later, reached London on Thursday night.
After watching India's victory against Sri Lanka at Headingley on Saturday, perhaps the greatest challenge of their trip remains – getting hold of tickets for the semi-final against New Zealand at Old Trafford on Tuesday.
'Paint the world red'
So why spend seven weeks in a car – going through snow, hail and desert storms – to watch your country play cricket when a direct flight would be so much easier?
"Back in March, we knew the World Cup was coming and we thought we must be there to support India," father-of-two Anupam told BBC Sport.
"The easiest way to do it would be to fly, but then we thought, 'no, let's do something special for the country, let's include everyone'."
That aim to include everyone means Anupam's parents Akhilesh and Anjana and his six-year-old son Aviv have come along for the whole ride while his wife Aditi, 34, and younger daughter Avya have also been passengers for a considerable chunk of the journey.
And this is not the first time Anupam has decided to get behind the wheel and see the world.
A quick look through the family's blog reveals that he had travelled just under 60,000 miles (96,000km), driving through 36 countries before this latest trip.
Now another 22,000km can be added to that total, with the following countries all passed through on the cricketing quest.